Serving The God of Creativity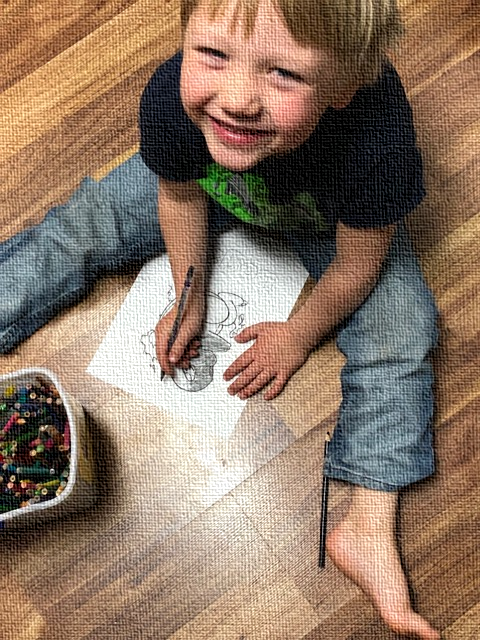 Or… why you should never stop coloring
So God created man in his own image, in the image of God created he him; male and female created he them. ~ Genesis 1:27
I find myself asking, at what point do kids stop considering themselves an artist. And then I also find myself asking, "At what point did some adults think they were?"
There was a social media video going around the other day about the child of an artist who at the ages of a two or three had his paintings selling for thousands. I rolled my eyes, curled my lips and determined in my heart I wouldn't be bitter. It was just ridiculous to me. This kid was literally throwing paint on a canvas and they are in awe of his talent. He may grow into an amazing artist, I won't begrudge him that. And I wouldn't tell the little fellow his art was subpar. But I would gladly tell the people paying thousands for it that their brain was subpar.
I've never been drawn to too many abstract artist. Although some I have found very talented. I could tell by the way they created it wasn't about throwing paint on the canvas, but there truly was a method to their madness. By color and design, it was good. At least that's my opinion. If you like abstract art, glory to God! I just don't get it.
I'm going from the prospective of the greatest of all imaginations. God. He just didn't throw paint on the canvas and call it a sky. The colors worked together. When He created man, He sculpted Adam and Eve in magnificence! Look at everything else on earth. It's beautiful. None of it looks like an afterthought.
So back to my original question. When do children stop considering themselves to be artists? I don't know for certain, and I'm sure it differs, but I would wager a bet, if I wasn't Baptist, because we're not allowed to bet. But if I was, I would wager a bet that it's after the first negative critical experience.
If you know anything about me, you know I'm an encourager. I don't criticize. Even if I think it. I may offer a suggestion to help someone, but I know that when someone creates something, they've usually done their best. And I can guarantee if they gave it to God, He would put it on His refrigerator. But He may not hang it in a gallery.
It's taken me 30 years to call myself an artist. Not because anyone has ever criticized me, because that is the furthest from the truth. I have great encouragement in my life. But I have no self-esteem. And of the few negative nellies that have critiqued me, and they've just been a few. That's all it took to squelch me down. It's what has kept me from making a living at the gift God gave me.
I stopped taking coloring serious. I still did it, but I didn't take it serious. Most people just stop doing it all together, although it has made a reprise in recent years with the new adult coloring books.
Going deeper into the realm of creativity causes me to explore why we are less apt to be obedient to the leading of the Holy Spirit telling us to do something, to create something new. Perhaps its because we fear that same critique of the world that we experienced as children that caused us to no longer view ourselves as artist.
You might be an artist of words, works, numbers. There are too many talents to list. What is your gifting and is it something that you should be using for the Kingdom, either for a living, or for a ministry. And why aren't you using it?
How do we know if it's Refrigerator or Gallery worthy? All good questions. And worthy of looking into the scripture to see what God says about who we are.
In His Image
He created us in His image. With passions like Him.
For thou hast possessed my reins: thou hast covered me in my mother's womb.
He controls us and creates specific desires within us. He created us to create. I personally don't know of a child who doesn't like to create "stuff." It's engrained in us as babies from making a mess to making what we think is the most amazing piece of art ever! All six of my grands love creating, even though they may not all grow up to be artist. Praise God, they don't know that. They just want to create.
I believe that as we grow that creativity takes shape into different amazing things. But creating is not just an artistic endeavor. Creating is doing a new thing.
Isaiah 43:19 says Behold, I will do a new thing; now it shall spring forth; shall ye not know it? I will even make a way in the wilderness, and rivers in the desert.
God didn't stop creating, why should we. He went from creating things, to creating paths and then using us to complete His work so that He can get the glory. I think people and churches get stalemated when we lose our desire to create, or we just don't know the direction we should go. We're satisfied with just showing up.
The church should be an ongoing project of getting souls saved and that takes many shapes and creative ideas.
I'm a project driven person. I need a project to feel purposeful. And I believe that's how God created us all. Like Him, we are made to create.
Even every one that is called by my name: for I have created him for my glory, I have formed him; yea, I have made him.
That verse makes me very happy! I (and you) were created by God for His glory. Meaning that when He created us, He created us to do something. Not just sit in a church pew.
For His Glory
Where ever we are in life, we are there to bring glory to God in that place. In our churches, in our work and in our passions.
I have made the earth, and created man upon it: I, even my hands, have stretched out the heavens, and all their host have I commanded.
God created all the earth and all of creation to glorify His name.
We have to have doctors, nurses, gas station owners, pharmacists and every other position in life to make the world go round and function. But all of those positions should point others to Christ.
"You heavens above, rain down my righteousness; let the clouds shower it down. Let the earth open wide, let salvation spring up, let righteousness flourish with it; I, the Lord, have created it.
All of Heaven and earth work in harmony.
This morning I picked up my fiddle that I had had to put a new "E" string on because I broke the old one tuning it. I hadn't played it for a week or two and every string was out of tune. It sounded awful. But when I got the tuner out and put every string in tune, suddenly I felt like a musician again. That's how life is. With artistry, with jobs and churches. We get out of tune. We lose our passion and purpose. We need tuned up. We need to find that creativity and desire to make something wonderful for the Lord. A new coloring page.
My grandson Logan was creating a Charizard. Which I don't even know what is, other than it's a Pokemon character. But it didn't matter. It only mattered that his hand created it.
God wants to see some of your work, your best creative pieces. And there's a reason that Christ said that we should come to Him like little children. Because it's with that mindset that we feel free and welcome to create. Not judged.
Don't squelch your creative spirit. God may just be getting ready to do something amazing with you.
Not By Accident
This was His word for me when I was ready to back out of His work again because I would be judged. God told me this. He said "you're past the age where you can throw stuff on a canvas and call it art. Be intentional. And do it."
God doesn't create things by accident. He had purpose. So should we. Don't ever stop coloring. There's something about that child within that helps you to keep in check with Who's really in control.