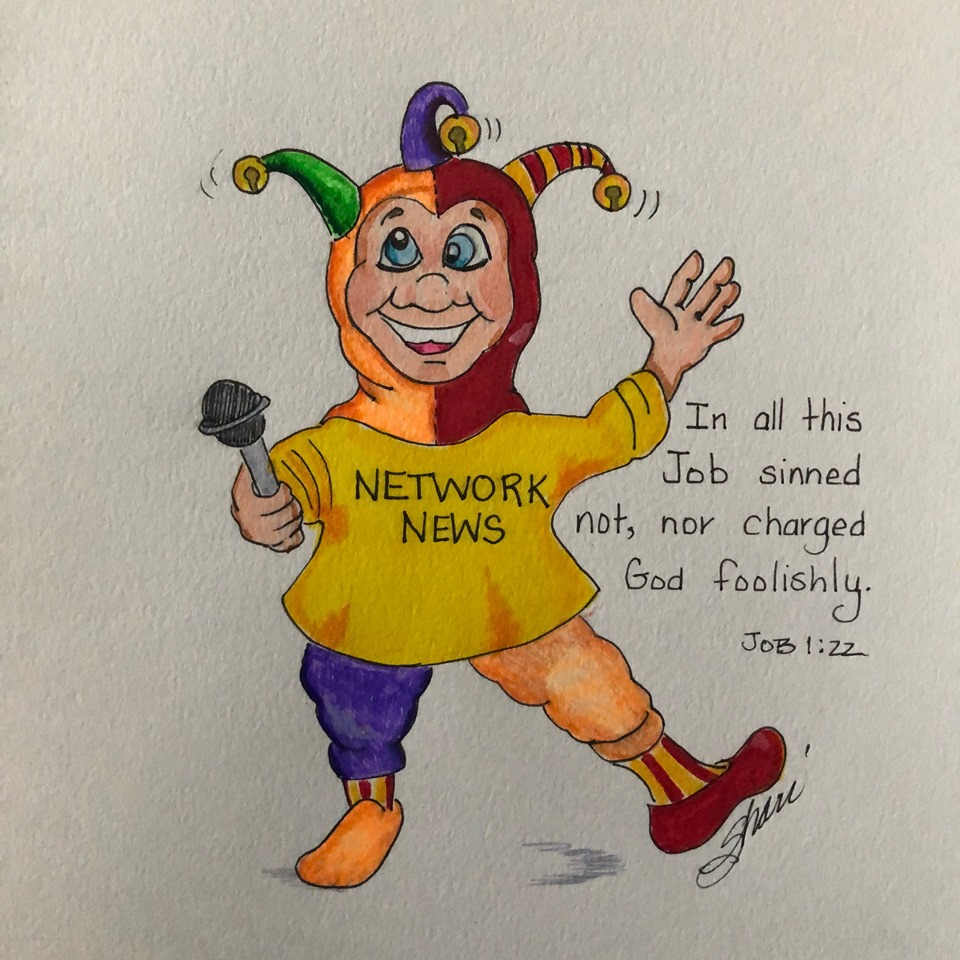 What To Do With Foolish People
Three times in Job 1 it says "While he was yet speaking," when the four servants of Job delivered the heart wrenching news of his losses. Three times he loses livestock and servants, and the fourth and final blow was the loss of His ten children. As parents, we can't imagine a greater loss. God totally understands. It's why it makes today's tolerance of the liberal agenda so much harder to stomach.
I've stated in this blog on more than one occasion that I don't "watch" the news. But it has a way of sneaking into my world through social media. So today I sought a way to deal with foolish people. There's plenty of them out there to deal with and they seek to destroy every work of the Spirit.
They love tearing down ministries, and governments that bring glory to the Name of Jesus and discourage those that support them; convincing them all they are the victors. Part of the reason they are so successful is that we, as the children of God, are not stepping into our roles.
Silence the Fool
Easier said than done, right?
1 Peter 2:15
For so is the will of God, that with well doing ye may put to silence the ignorance of foolish men:
It's the will of God! Glory!
So how do we do it? By doing well.
That's not speaking of prosperity, as some would have you believe, but rather speaks of the character of God's people. Arguing with a fool seldom creates silence. It usually just creates chaos. But silencing the fools with righteous living, honest conversation and good works is extremely satisfying to the soul.
Jesus told Paul in Acts 9:5 I am Jesus whom thou persecutest: it is hard for thee to kick against the pricks."
Paul trembled at Christ's words. Number 1, because it was God, but also because His words pricked, pierced Paul's heart. That's what the word of God does to the unsaved. It's like a bee sting, or a slap in the face. It catches them off guard and it is for certain our greatest tool in our weapons of warfare. It's why it send the liberal news agencies into a feeding frenzy when they hear someone in Washington quote scripture or mention the name of Jesus. There is power in those words. There is also power in His people when we're doing His work. The Lord has an agenda too. It's to get as many people to Heaven as we can. And it is so easy to lose sight of that with all the rhetoric we're hearing in the world.
If you want to silence the masses, start by telling them how Jesus saves.
If that doesn't work
Avoid the Fool
Titus 3:9
But avoid foolish questions, and genealogies, and contentions, and strivings about the law; for they are unprofitable and vain.
I so often just want to see the liberal losers put in their place. But God said that it is sometimes better just to avoid them all together. They're just talking to hear themselves and sometimes so are we. Or so is "me." I just need to say anything because I'm tired of everything.
We'd do much better if we'd just speak an appropriate scripture to the situation and then drop the mic. Sometimes that takes a little research, and sometimes the Holy Spirit will just speak it into your soul if you're listening.
My third, final and most appropriate point for my own study is
Don't forget, you were the fool
Titus 3:3
For we ourselves also were sometimes foolish, disobedient, deceived, serving divers lusts and pleasures, living in malice and envy, hateful, and hating one another.
Tell me it's not true? I have to confess it was the case with me pre-salvation and I've been known to linger on a few of those issues even post salvation.
Satan has the liberal lot, and many who are caught somewhere between liberal and conservatives, deceived; because they don't trust either side and with good reason. We do not always speak the words Jesus would have us speak. And we forget that we once were just as mislead.
While I want to silence, and in the worst kind of fleshly way, wipe the arrogant grins off CNN and the likes of news reporters, I need to remember who it is that I represent.
Jesus' people ought to have more class than to get into a shouting match with the fools.
Just speak His word, walk away and then pray for the enemy. That too is a weapon of warfare that they can never have in the arsenal. They don't have anyone to pray to.