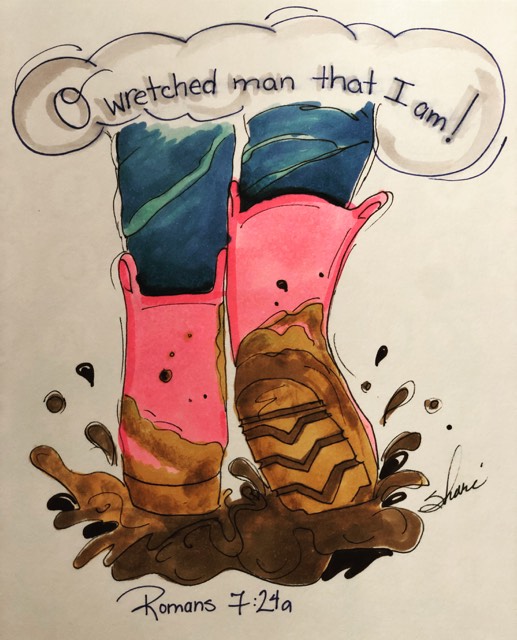 O wretched man that I am! who shall deliver me from the body of this death? I thank God through Jesus Christ our Lord. So then with the mind I myself serve the law of God; but with the flesh the law of sin. ~ Romans 24-25
I'm pretty sure I have the best teen group in the nation. If you're a teen leader, you probably think so too… or you should. They stretch me with my idealistic notions of what faith looks like, by granting me the new generations perspective. Just when I think I have it all figured out, we get into a deep (or sometimes shallow) theological discussion and I have one of those "You are not as smart as you thought you were, Shari," moments. They are really quite frequent if I'm honest.
But last night's ill prepared teen lesson was on "restoration" of the body of Christ. We skimmed the tops of scriptures about Peter, David, Saul and others whose failures sometimes lead to renpentance and sometimes not. But God's love of broken people is evident from Genesis to Revelation.
The one glaring fact that comes from muddy pink boots, is that no matter how the world dresses up sin, dirt is still dirt. It aint pretty. The lesson that I learned from my diverse group of thinkers in the teen group last night was, children, (like God) are so quick to forgive the people they care about. And so quick to move on from mistakes understanding that they're learning! I'm not so quick to move on. I sometimes put my pretty muddy pink boots in the corner as a reminder about that time I didn't go around the mud, but walked right through it. I walk by my failed attempt at life and kick myself. I try buying a new pair of boots, but they're not fun to wear, because i really want to wear the pink ones.
I know that's a very odd parable. But what I hope you learn is what I did: Restoration also has to be done within. Especially if we're not apt to share the fact that our boots are muddy to start with. Christians seldom want anyone else to know what they struggle with for fear of being seen as "less godly." Well let me tell, I am for certain less godly. And I struggle with lots of "stuff." I have a tender heart willing to forgive everyone but me. God is showing me through the youth who love me faults and all, that He does too.
I need to clean off those pink books and get back to walking.
How about you? Do you struggle with self degradation and unforgiveness. Maybe your boots are another color, but they'll clean up just as nicely if you'll spray them down with the water of the Word.