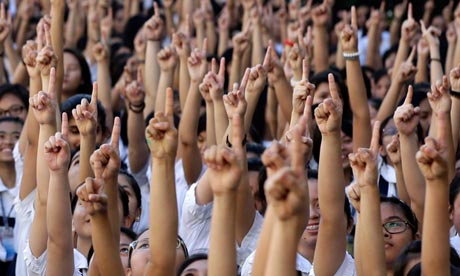 It's human nature that we continually search for that "one thing." That one thing that will make us happy, that one thing that will complete us, be it materialist or an accomplishment we're no doubt searching for something. Just as I think I'm past it, the flesh rises in me again and I determine there is something else, one more thing that I need. As it turns out, God thought that there was a few "one things" that I needed in life as well. The following is a very brief study of the "one thing's" we should have an understanding of.
One thing is Confusing
Religion.
Acts 19:32
Some therefore cried one thing, and some another: for the assembly was confused: and the more part knew not wherefore they were come together.
Some cried one thing and some another. The crowd had come together against Paul, and yet they weren't in agreement with each other. They all had different beliefs and passions, and would be led first one direction then another, but for the cause of Christ, they were all against it. They didn't know what they believed, they just knew they didn't believe Paul. How true is that of the world today that Satan has so many convoluted ideas out there as to what is right and wrong. He loves religion, because religion is man's works, not their relationship with the Creator. Be very wary of people who argue religion, they're apt to cause confusion and attract an audience of demonic whisperings.
One thing is Consistent
God's Plan.
While even friends and family let us down, and more often than they, we ourselves let us down; there is one consistency in the life of a Christian and that is God has never let you down. Things may not go as planned but He did not fail us.
Joshua 23:14
And, behold, this day I am going the way of all the earth: and ye know in all your hearts and in all your souls, that not one thing hath failed of all the good things which the LORD your God spake concerning you; all are come to pass unto you, and not one thing hath failed thereof.
Israel took a long trip through the wilderness, but the plan that God began was finished. The struggles in our lives that seem as though they may consume us at times will beyond a shadow of doubt find us at our intended destination. Philippians 1:6 Being confident of this very thing, that he which hath begun a good work in you will perform it until the day of Jesus Christ: There is a consistency in the life of a child of God! Hallelujah!
One thing is Certain
Death.
It's not something we enjoy discussing, we enjoy even less the facing of it, but it is certain. And yet so many people live each day as if they are promised another one.
Ecclesiastes 3:19
For that which befalleth the sons of men befalleth beasts; even one thing befalleth them: as the one dieth, so dieth the other; yea, they have all one breath; so that a man hath no preeminence above a beast: for all is vanity.
Solomon said it was vanity. Self-centeredness in the worst way not to understand that life is but a vapor, a fleeting moment. What are you doing with it that will have an eternal impact? There was renowned college professor once who was ask why he chose to teach, rather than preach before the thousands who would come to listen. His reply was "I can have a greater impact for eternity teaching preachers who will each reach thousands than I ever will alone." Wise man. Don't take time for granted.
One thing is Critical
Commitment.
Mark 10:21
Then Jesus beholding him loved him, and said unto him, One thing thou lackest: go thy way, sell whatsoever thou hast, and give to the poor, and thou shalt have treasure in heaven: and come, take up the cross, and follow me.
If you want to make the most out of your relationship with God, no "one thing" can come between you and He. You've got to be willing to give it all up, trusting that what ever is needed God will provide.
One thing is Chosen
Worship.
Luke 10:42
But one thing is needful: and Mary hath chosen that good part, which shall not be taken away from her.
In the story of Mary and Martha, Mary was found at the feet of Jesus worshiping while Martha worried in the kitchen. She was concerned about the formalities of the event rather than the fact the Father of all Creation was sitting in her living room. There's a time to work, and a time to worship and we have to choose. It's important to understand priorities.
One thing is Converting
Salvation.
To an unsaved person there are many things that seem to matter, it's the confusion spoken of earlier. But to a child of God who's been converted from a sinner to a saint by the blood of Jesus it's as if someone turned the light on in their lives and what once made no sense at all, is now as clear as day.
John 9:25
He answered and said, Whether he be a sinner or no, I know not: one thing I know, that, whereas I was blind, now I see.
One thing is Continual
Time.
2 Peter 3:8
But, beloved, be not ignorant of this one thing, that one day is with the Lord as a thousand years, and a thousand years as one day.
This is certainly not an exhaustive study, although if you read all 1038 words in this blog you may be exhausted. But how awesome it is to know that in all of life's ebbs and flows there is One Thing that is assured for the child of God and that is an eternity without sorrow.
Life's not perfect. But Hallelujah we serve the One True God Who is perfect in every way. He is the One Thing you need. Do you know Him? If not, get in touch with me, I'd love to introduce you.