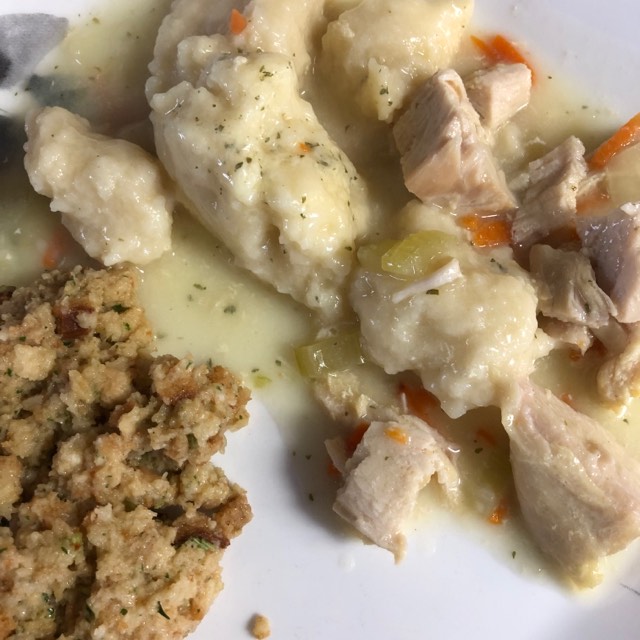 CHICKEN & DUMPLINS
Ingredients
CHICKEN & BROTH
2 lbs. froze chicken breast
1 onion
1-2 thinly diced carrots
3 stalks diced celery
8 cups water
salt & pepper to taste
1 tablespoon parsley
two tablespoons of chicken base or boulion
DUMPLINGS
2 cups self-rising flour
2 eggs (beaten)
1/3 vegetable oil
1 cup milk
Combine all ingredient together (milk a little at a time) with a fork or pastry cutter until dough is soft but not sticky.
THICKENING
4 tablespoons cornstarch
1 cup milk
Mix cornstarch in milk until all lumps are gone.
Instructions
Combine chicken, onion, carrots and celery in a large pot. Season to taste.
Bring to a boil, reduce heat, and simmer covered 45-60 minutes or until chicken is tender. While broth is simmering, prepare dumplings and thickening.
Remove chicken from broth and chop or shred.
Pour cornstarch and milk into broth and stir until blended.
Gently add dumplings to broth by rounded teaspoon until all are in (baptizing all of them J) Do NOT STIR. Simmer 15-20 minutes or until fluffy and tender.
Return chopped chicken to the broth and heat about 2-3 minutes or until heated through.
Sprinkle parsley across the top and serve, Yumm!!!!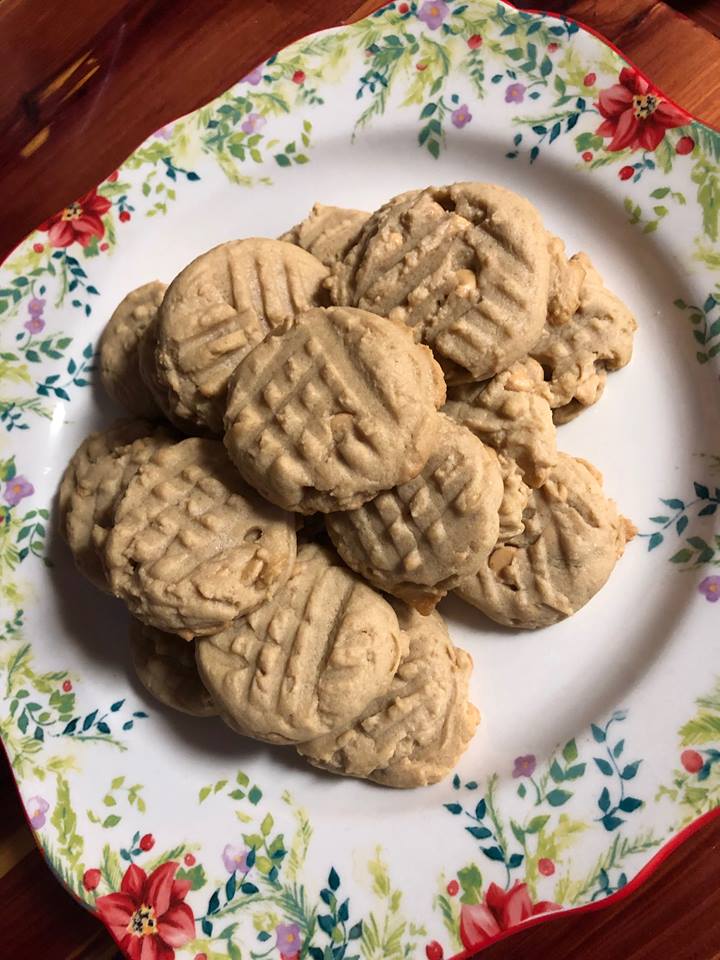 This yummy peanut butter cookie recipe got rave reviews from my bunch of cookie monsters young and old. I keep telling you guys I'm trying to eat healthier but the evidence is surely lacking on my recipe page with the first two being carbs and sugars :). Well… everything in moderation.
As I'm posting this, I'm having a warm bowl of tomato soup for lunch. Not too shabby nutritionally. Although I need to learn to make a homemade version of it. Perhaps if you've got a recipe for that I can share yours! But for today we're talkin' dessert. Enjoy!
DOUBLE PEANUT BUTTER COOKIES
1/4 cup coconut oil
1 1/2 sticks unsalted butter, at room temperature
2/3 cup smooth peanut butter
1/3 cup powdered sugar
1 cup light brown sugar
2 eggs
1 tablespoon vanilla
2 1/2 cups all-purpose flour
1 1/4 teaspoon baking powder
1/2 teaspoon baking soda
1/4 teaspoon salt
1 bag Reese's peanut butter chips
Heat your oven to 350 F and prepare to sheet pans with parchment.
Blend coconut oil, butter, peanut butter, powdered sugar, and brown sugar until light and fluffy.
Add eggs and vanilla and mix until well incorporated.
In a medium bowl sift the flour, baking powder, baking soda, and salt. Add to the peanut butter mixture and mix on low speed until most of the flour is incorporated.
Fold in peanut butter chips until evenly distributed
Scoop onto prepared (parchment lined) baking sheet, make a criss cross design across each cookie with a fork and bake 10-12 minutes.
Remove from the oven and cool.
Grab your bible, coffee, tea or milk and meditate on the word of God.
How sweet are thy words unto my taste! yea, sweeter than honey to my mouth!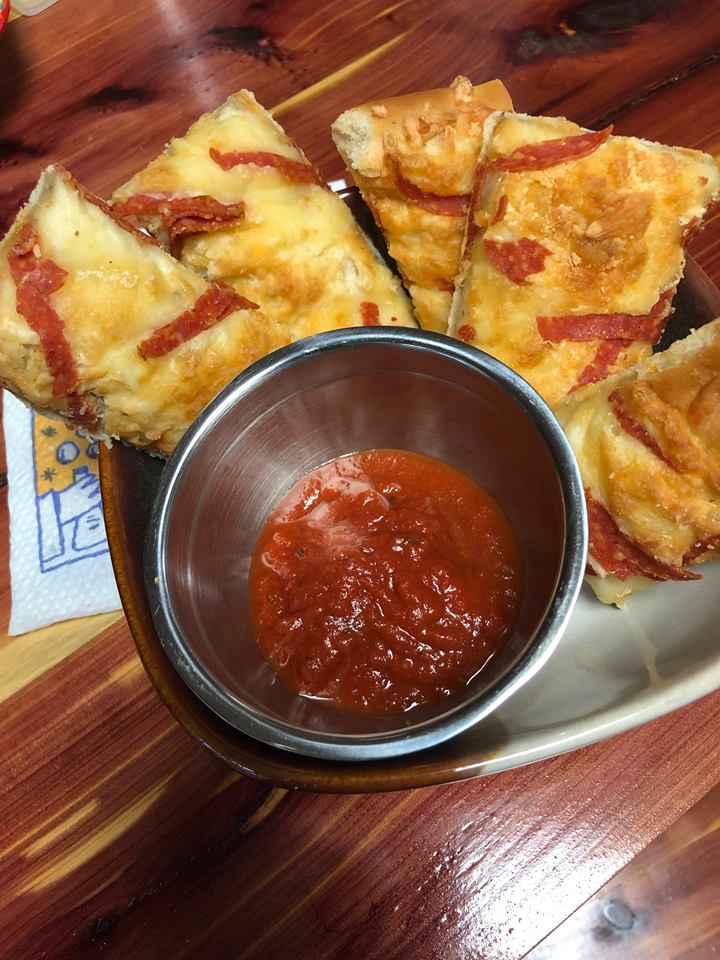 Old World Bread Sticks
Let's Break Bread together!
After heart attacks and open heart surgery, I've tried to do better with my diet. And while this is not a good example, especially for my first post, it's a healthy "er" version of one of my favorite foods in the world. The only difference is it's not loaded with grease! No flavor has been sacrificed.
Ingredients
1 envelope rapid rise yeast (2 ¼ teaspoons)
2 tablespoons of sugar
1 cup very warm water (120-130 degrees F)
2 ½ Cups all purpose flour (more as needed)
1 teaspoon salt
2 tablespoons Italian seasoning
1-2 tablespoons Parmesan Cheese
1 teaspoon garlic powder (more or less to taste)
3 tablespoons butter
2 tablespoons of vegetable oil (olive or coconut if preferred)
Mozzarella Cheese
Chopped Pepperoni or miniature pepperoni
Pizza Sauce (homemade or store bought)
In a small bowl or 2 cup measuring cup add yeast and sugar to hot water and allow to prove at least 10 minutes, till bubbly. (If no bubbles, throw it out, your yeast is bad)
To a large bowl (I have a KitchenAid ® mixer and dough hook) add flour, salt, Italian seasoning, and blend dry mixture well.
Add oil and mix through. Pour in yeast mixture and kneed with dough hook 5 minutes. Remove from the bowl and kneed by hand until dough is elastic. When a small piece can be stretched thin enough for light to show through without tearing the dough is ready.
Allow dough to rest for 10 minutes in a warm area.
Roll or spread dough onto a lightly greased pizza pan. Top with desired amount of mozzarella cheese and bits of pepperoni, then sprinkle Parmesan cheese across the top to taste.
Allow dough to prove on the stove top another 10-15 minutes.
Bake at 400 degrees for 20-30 minutes, until crust is lightly brown on top and bottom.
While dough is baking melt butter and stir garlic powder into it.
Once your bread is out of the oven lightly brush the melted garlic butter over the edges of the crust and across the cheese very lightly.
Yes I say lightly a lot because it makes me feel healther 😀 But in all honesty i think homemade is healthier and moderation is key!
Heat pizza sauce, pour into dipping bowls and enjoy! Let me know how it goes!!!